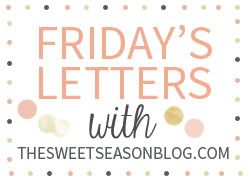 Here we are again
Friday
. I am so glad you decided to come around again this week. Next week I really wish you could come around quicker, just a little, like 12 hours, that you be great. In fact just borrow 12 hours off Thursday and add them onto you, see how perfect that is?
I never thought I'd say this but Thank You
tummy
. Thank You for continuing to shrink every.single.week even when I don't deserve you too. I promise next week to put 100% pure goodness into you. OK 80%, we have to be realistic here.
What has happened to the community here bloggers?
Seriously! Where have you all gone?! I can't believe you've ditched me. Come back! Haha, really I love you all, although everyone needs some comment love now and then.
Family I don't know what to call it any more
It's as simple as that.
This week/next week is going to be TOUGH
Mum
. Like so super tough you never thought you could go through something like this, but you will get through it. I understand you will need time on your own. I am hear when you need to talk.
Social Work Tutors.
I know you are reading my application right now and deciding the course of my future. ACCEPT ME. I really, really want this and I know it is something I would be so good at.
Readers.
You should go visit this months featured sponsor. She's awesome!