You remember I mentioned
here
I'm aiming to be a little more open and honest in this little space.
Linking up with a
Friday Letter
is my start and definitely a step in the right direction.
Dear Weight Watchers member who reported my Mum and I with the excuse that we were abrupt welcoming you and got us fired
, I forgive you.
Dear first time spray tan tomorrow
, please, please, please, please turn out OK. I
really
don't want to be orange.
Dear Sun
, please stay over Lanzarote for ooooo I don't know, the next 10 days sounds good!
Dear amazing marketing company I would love to work for
, please give me a job =)
Dear Friends
, I know I'm not always great and keeping in contact. That doesn't mean I don't think about you everyday.
Dear Family
, I am sorry for being a little blog obsessed lately. You know you are the most important people in my life, but I also need you to understand blogging makes me happy. Currently it's the only place where I feel I can be 100% me and people still like me for it. I need you to respect that. I'd love for you to be involved a little more too.
Dear Readers
, I love you, like 100%, love.
Dear God
, We lost our connection for a while didn't we? Forgive me. We need to reconnect.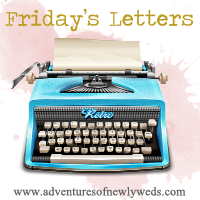 OK so maybe it wasn't pouring my heart out on a page, but its a start.
Have you written a Friday Letter?