Right Ladies, after perusing
The Shine Project's blog
. I came across the lovely Ellie. She has set up a charity to enpower young women. Working in a school I know how important it is that women, young or old have a positive self image and masses of self worth.
Its not always easy. We all have the days when we wake up and think, I look fat/ugly/too thin today. Just simply 'having a bad hair day' can do major damage to your self image for the whole day.
It has long been thought by some of the fashion rat pack that if you look good you feel good. Well I'm here to argue against that. Lets make it a new mantra, "If you feel good, you look good". After all we all know the most gorgeous, and vivacious person in the room is often the one with the most confidence and the best self image.
So Ladies I say love yourself, and as Bruno Mars would say, just the way you are.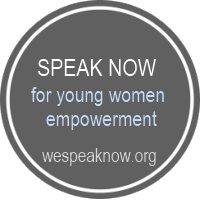 NB: Make sure you check out
Ellie's personal blog
and the
Speak Now blog
. Lets help get this message to all the young women out there!
H xo